April 22 – April 30, 2017
"Each spring WPBS-DT holds its annual All Star Auction. Our largest fundraising event of the year encompasses nine evenings and thousands of items. Saturdays and Sundays the auction begins at 6pm and concludes around midnight. Monday through Friday we begin at 7pm and conclude at midnight. A wide variety of items are up for bid throughout the nine evenings including gift certificates, trips, admission tickets, toys, clothing, gift items, jewelry and so much more
Amateur radio operators in Northern NY and Canada have benefited from WPBS in the past and will continue to do so in the future.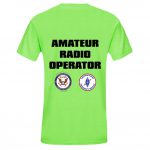 Let's show our support and gratitude by returning the favor while promoting amateur radio at the same time.
Please fill out the information below so that we can coordinate participation.
Please be sure to read the submission confirmation at the end to get your Amateur Radio Operator Tee Shirt  —>
We will be volunteering on

Sunday, April 23, from 6 PM to 9 PM
We need to fill about 25 slots, so participation is not limited to HAMS, but we encourage family members, scanner listeners and anyone else who would like to join us in helping out.
Information collected will not be shared with any outside entity.
Current Volunteer Sign-up Sheets
No sheets currently available at this time.
Please login to view and edit your volunteer sign ups.